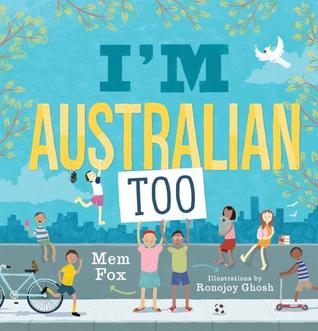 I'm Australian! How about you? Many people from many places have come across the seas, to make Australia their home. How Australian is that?
Hardcover, 32 pages
*  *  *  *  *
Mem Fox my dear, I didn't think it was possible to love you anymore than I did after Possum Magic and Time for Bed, but now I do!
I was so excited when I saw this beautiful book by Mem Fox and illustrated by Ronojoy Ghosh. It celebrates Australia's multiculturalism, promotes racial equality and shines a spotlight on refugees. All this is wrapped up as a fun and colourful sing-song story to be adored and absorbed by the minds of our young children. Mem Fox you are a wonderful, wonderful woman. I will be repeatedly reading this to my boys.
I'm writing this review after just reading I'm Australian Too for the first time with my 3.5-year-old son. He was fresh out of the bath and about to get into bed, perfect mummy and son book reading time.
This book is absolutely beautiful.  On our first read through when I got to the page that starts with "Sadly, I'm a refugee – I'm not Australian yet." My spine tingled and a wicked smile crept on my face. I was thinking: You go Mem Fox! Stick it to the haters.
By the end of the second read through I had tears in my eyes and was getting choked up trying to finish the last page. My heart is humming and I need to tell the world about this book. READ IT TO YOUR KIDS. Refugees are mentioned. Aboriginals, Italians, Greeks, Somalians – the list goes on and on – are mentioned. It is truly beautiful.
The last page ends with the line "Together now, we live in peace, beneath the Southern Star." Oh Mem, how I wish that was so and I hope for a tomorrow when it is!
I'm Australian! How about you?